Leisure time for the approximately 860 citizens of Boonsboro was practically nonexistent in 1879, but Christmas was celebrated with gift-giving, extravagant dinners and Christmas "exercises" at the town's houses of worship.   The Civil War, understandably, intensified the appeal of Christmas' celebration of family and Boonsboro's townsfolk observed the day with enthusiasm.  Excerpts from the January 1, 1880 issue of Boonsboro's weekly paper, The Odd Fellow, provide some imagery of a simpler Christmas 138 years ago.
"This great festival, commemorative of the birth of Jesus, the Saviour and Redeemer of the world, was celebrated with more than usual spirit.  All business, so far as we could see, was suspended, stores and shops closed and the cares of life, apparently thrown to the winds for the time being.  Everybody was dressed in holiday attire, and seemed determined to enjoy the occasion."  The Lutheran, United Brethren and Reformed churches had their celebrations in the morning, afternoon and evening, respectively.  In each church the branches of evergreen trees were decorated with oranges and cornucopias filled with treats for the children along with gifts for the pastors and teachers.  After prayers and the opening address by Rev. Beckley at the Lutheran church, "the tree was robbed of its wealth, and divested of all interest to the children."  Similar scenes played out at the United Brethren and Reformed churches where "The children, though quiet, hardly enjoyed the opening exercises so much as that which followed—the distribution of the gifts.  In a short time the tree was robbed of its borrowed treasures and each little one had his hands full of candies, oranges etc., munching away for dear life, and as happy as happy could be."
It was also reported "On Christmas night while some young folks were enjoying themselves in Capt. Brining's parlor, a coal lamp was upset."  The flames spread over the table and "struck up several feet."  Fortunately the fire was extinguished and the damage slight but "the girls and their beaux were slightly alarmed."
And finally, the paper's editorializing on January 1 included:  Sinking—coal piles; Empty—the Boonsboro jail; and Crusty—snow and old bachelors."
Much has changed in the 225 years of Boonsboro's history, but thanks to the "community of intelligent, industrious, thrifty, and go-ahead inhabitants" as J. Thomas Scharf described Boonsboro in 1882 in his History of Western Maryland, small town charm and friendliness endure.
Merry Christmas and Happy 226th New Year!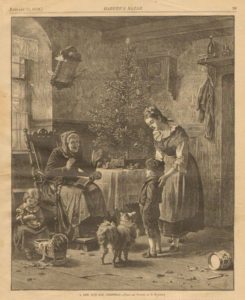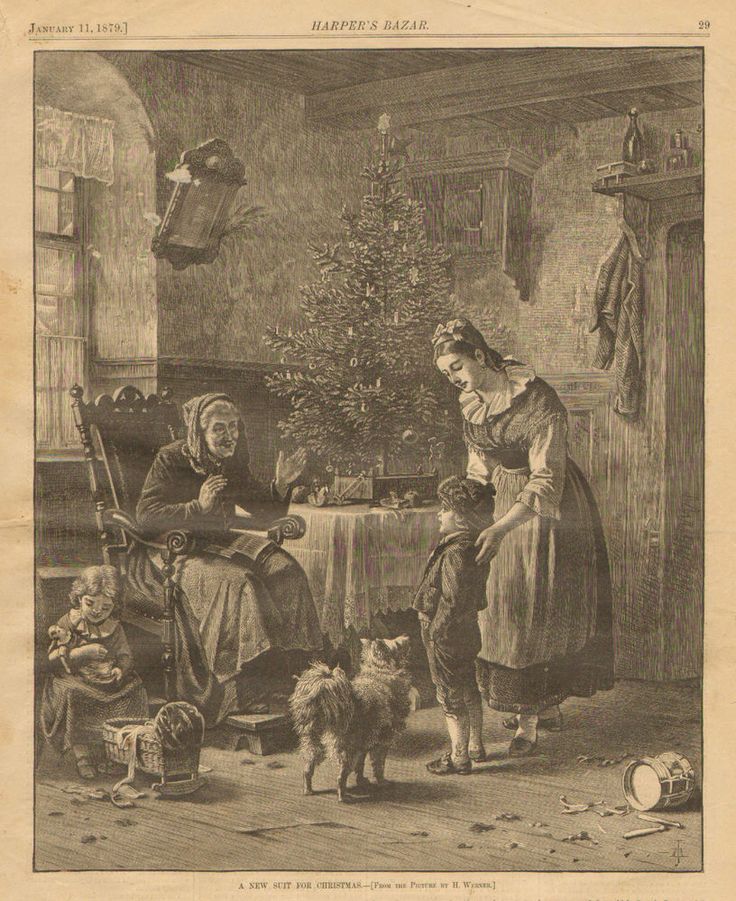 This art print, found on Pinterest, appeared in the January 11, 1879 issue of Harper's Bazar and shows a boy modeling his new Christmas suit.