It must have been a remarkable sight – on the morning of July 4, 1827 as many as 500 citizens of Boonsboro and nearby communities assembled on the town square at 7:00 am and, headed by the stars and stripes and a fife and drum corps, marched to an area called The Blue Rocks at the summit of South Mountain.  Motivated simply by patriotism, our fore-bearers had set out to erect the first monument in this Country dedicated to the memory of our first President.    By 4:00 that afternoon a structure stood 15-feet tall on a 54-foot circular base.
The July 5, 1827 Torchlight of Hagerstown reported  "At the conclusion of our labors, about 4 o'clock, the Declaration of Independence was read from one of the steps of the monument, preceded by some prefatory observations, after which several salutes of infantry were fired, when we all returned to town in good order."  They came back in September (after the harvest) to complete the tower to a finished height of 30 feet.  A marble tablet read: "Erected in Memory of Washington, July 4, 1827 by the citizens of Boonsboro."
Isaac C. Lutz, one of the most skilled stonewall builders of the time supervised the construction.    With no water on the mountain, the stones were laid dry and, over time, gravity, vandalism and weather took their toll.  By the time of the Civil War, it was not much more than a heap of rubble.   The monument had always been a popular gathering place for local residents and, in 1861, spectators collected at the monument to watch the unfolding of the first major battle on Northern soil.  Robert E. Lee had moved his Army of Northern Virginia into Maryland, up the National Pike and across South Mountain readying to engage in the Battle of South Mountain.
Next week:  Civic Pride—Maintaining the Washington Monument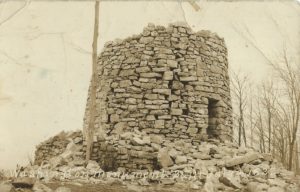 Photo is an original postcard from Darce Easton.