As pioneers traveling to the western frontier passed through Turners Gap in the South Mountain range, they found rest and refreshment at an establishment now known as the Old South Mountain Inn.   In 1876, just 14 years after the Battle of South Mountain erupted at Turners Gap, Madeleine Vinton Dahlgren purchased the inn overlooking the battlefield and converted it to her country manor, the South Mountain House.
Madeleine Dahlgren was the wealthy widow of Admiral John A. Dahlgren, a naval ordinance expert and adviser to President Lincoln during the Civil War years.  She was an accomplished writer and translator and was known for her strong anti-suffragist sentiments.  Her book, South Mountain Magic: Tales of Old Maryland is of interest locally and is among the numerous essays, articles, short stories and novels she published.
In 1881 Madeleine turned her attention to building a private family chapel across the National Road from her country residence. The English Gothic Revival style structure was built with stone quarried behind South Mountain House and walnut timber cut from stands on the estate. Upon its completion in 1884, the Saint Joseph's Chapel of the Sacred Heart of Jesus would boast 18" thick stone walls and buttresses, slate roof, hand-painted and stained glass windows in the Nave, as well as a large rose window in the gallery accessed through the bell tower. Above the marble floors and wainscoting, the interior walls and ceiling were sheathed in native walnut paneling with walnut arches supporting the roof. Mrs. Dahlgren referred to the chapel as "the South Mountain Mission". Clergy from St. Augustine Church, Williamsport, and St. Mary Church, Hagerstown, MD conducted regular services from May to October and Mrs. Dahlgren actively invited and encouraged local citizens to attend mass at the chapel.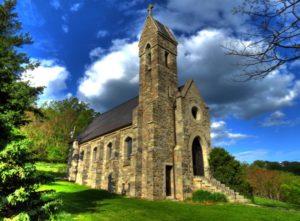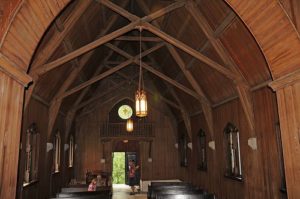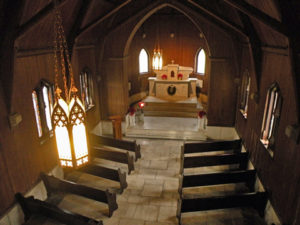 Exterior photo from Rick F. on www.zpost.com. Interior photos from Pinterest.