In 1904, the Republican Club and Washington County Free Library collections were joined. The Hagerstown Daily Mail in March 1904 reported the organization of the Boonsboro Library Association.
In her annual report of that year, Miss Mary Titcomb stated that the people of Boonsboro had formed an association in order to establish a permanent reading room. The central library sent a sufficient number of books to the branch at the time of opening to insure a good collection. Fresh deliveries were made two or three times a month.
Mary Titcomb referred to the Boonsboro people as "the pioneers in this plan of permanent branches throughout the county." A charter was obtained in 1906 with a board of five trustees. Harvey Bomberger was the first president.  From: Western Maryland's Historical Library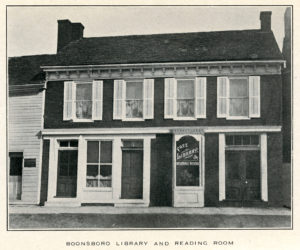 Photo: Boonsboro Free Library & Reading Room at 9 S. Main Street in 1907.