Folger McKinsey was known as the Bentztown Bard when he served as columnist, writer and poet for the Baltimore Sun.  A protégé and friend of Walt Whitman, McKinsey contributed his "Good Morning" column to The Sun five days a week from 1906 to 1948.  He was eulogized upon his death in 1950 as  "The voice of veritable Maryland. Nobody ever knew the state better, every nook and cranny of it from mountains to sea, understood it more sensitively or loved it more than he."  His poem "Over the Mountain" appeared in The Sun January 8, 1938 and it evokes images of Boonsboro's historic past and bucolic charm:
Over the mountain winding down,
And there I was entering Boonsboro town,
The calm of the valley, the peace of the scene,
The battles forgotten and life so serene.
Never an echo from cannon or gun,
Never a scream of the fife, nor a run
Of the charge of the bugles of battle and tears-
All so forgotten adown the green years.
Here they come shopping on Saturday night,
Father and mother and children so bright;
Streets in a flurry, such smiles, and such cheer,
And laughter of life for the healing of fear.
Over the mountain the soft sky was sweet,
The vultures were sailing with shadows that meet
Over the meadows and down the long slope
Of the farmlands that blossom in springtimes of hope.
Towns like old Boonsboro sacred and rare,
Something so fine in them, sweet of the air,
Strength of the people for righteousness, truth—
And yon the great mountain to charm them with youth.
–B.B.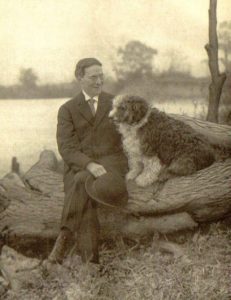 Photo of Folger McKinsey from www.cecildaily.com.