Shafer Park is a lasting tribute to the vision of Boonsboro's leaders and the generosity and commitment of its citizens. In the 1930's, Mayor John Hershberger noted that the "homecoming week" (perhaps the precursor to Boonsborough Days) created an "inconvenience and burden on the good citizens living on Lakin Avenue" because the celebration was held on that street.  He thought a public park would be an asset to the community.
A century earlier, in the 1800's, Jonathan Shafer had operated a tannery on the north side of Boonsboro. He was involved in all manner of service to Boonsboro, including serving as its first Burgess.  His descendant, Mary Shafer, donated that tannery site to Boonsboro and it was there that the Works Progress Administration built Shafer Park during the depression years.  There must have been opposition to the project because at the dedication ceremony in 1939, Congressman William Byron boldly noted  "there are those who are always throwing a monkey wrench into the wheels of worthwhile progressive movements" and "even those who said it could not be done, I know in time will be glad it has been built".
Mayor Hershberger concluded his more temperate comments with "My wish to each and every one of you is that your enjoyment of it will increase with the years to come".   His wish has been answered.   Shafer Park adds immeasurably to Boonsboro's sense of community spirit.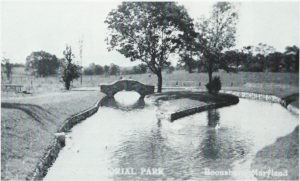 Photo of Shafer Park from A Pictorial History of Washington County, MD Book #1 by Carroll Spitzer.