Ruins of a community that grew up and prospered from 1772 to 1918 can still be seen where Roxbury Bridge crosses Antietam Creek northwest of Boonsboro.  John Shafer settled along the banks of Antietam Creek in 1772, eventually constructing a water powered stone gristmill.  Early settlers provided flour to markets in Baltimore and Philadelphia but soon understood that using their rye and corn to make whiskey was more profitable than milling flour.  By the 1790's, whiskey manufacture was a major industry and Shafer developed a distillery in conjunction with his milling business.  The village of Roxbury swelled after rail service to the area was completed and Baltimore businessman, George T. Gambrill, purchased Roxbury Mills and 23 acres for $4,900 in 1887 and made improvements.   Rebuilding after a calamitous fire in 1900, output of the Roxbury Distillery Company increased to 100 barrels of Roxbury Rye a day and storage capacity grew to 50,000 barrels in eight-story bonded warehouses.  At the time of World War I, Roxbury was a community of 100 residents, boasting a grain elevator with a railroad platform and a country store, boarding house and modern hotel.  Life was good!
Next week: The Fall of the Roxbury Distillery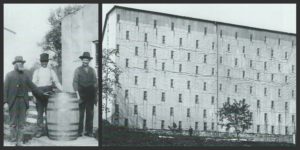 Photos: (l) Employees pose with a barrel of whiskey at Roxbury Distilling Company on Roxbury Road northwest of Boonsboro in 1910. (r) An eight-story Roxbury Distilling Company storage building TOWERS above the man standing at the bottom center in 1910. Photos courtesy Boonsborough Museum of History.