There were only five houses in Boonsboro in 1796:  Peter Conn's Eagle Hotel, a structure on the site of 44 N. Main St. that may have been William Boone's store, Jacob Craig's house next to the hotel (now the bakery at 7 North Main St.), Mrs. Short's log-built store (on the site of Vesta's at 2 S. Main St.) and "a house at the spring," probably now the Hamilton/Brining House at 103 N. Main St.
The Eagle Hotel was the first stone building erected in Boonsboro and it has been standing on the site of 1 N. Main Street since 1796, 8 years before Lewis and Clark set out on their expedition!  Conn's ledger of March, 1804 notes sales of grogs for 5 ½ pence and quarts of beer for 11 pence, reminding us that at that time pounds, shillings and pence, rather than the dollar, were still in use.  James Chambers took ownership after Conn's death in the 1820's and the business became known as the Chambers hotel.  By 1877 the property was again named the Eagle Hotel with George Smith, the landlord, advertising  "Good accommodation for man and beast at reasonable rates."
Maps of 1897 and 1904 show three hotels in a row on North Main Street!  At that time the Eagle was known as the Commercial Hotel and the two competitors next to it were Hotel Boone and Potomac Hotel.  By 1910 the Boone Hotel had become a stove and tinware store and the Potomac, a private dwelling.   Hezekiah Snavely took the Commercial over by 1922, naming it the Mountain Glen Hotel and by 1940 it had been renamed the Boone Hotel.
Little by little, the demand for a hotel in Boonsboro diminished, and the Boone Hotel was occupied by various businesses until it finally stood empty and in disrepair, with pigeons it's only occupants.  The Eagle was down, but not out.  In 2007, new owners Nora Roberts and Bruce Wilder began restoring the property. But in the midst of the renovation, a devastating fire destroyed all but the masonry walls of the structure.   Undeterred, the owners moved on with the project, beginning the restoration of the brick and stone that had withstood time and fire.   The hotel is now reopened as the popular Inn BoonsBoro,  providing "a warm hospitality that has been handed down at North Main and St. Paul for more than two centuries."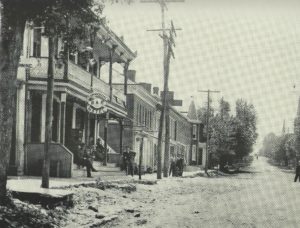 Photo of Commercial Hotel and South Main Street around 1915 by C.D. Young, courtesy of Boonsborough Museum of History