The exploration and colonization of the Americas occurred during the early modern period in history, a time when scientific understanding of the natural world was in its infancy.  Settlers of the New World naturally brought family traditions and folklore with them as they journeyed out into the often-dangerous frontier.  Madeleine Dahlgren, an early occupant of the Old South Mountain Inn at Turners Gap, was interested in folklore, superstitions, myths and traditions and she devoted the last chapter of her book, South Mountain Magic, to "Magic Cures and the Black Book".
Michael Zittle Jr's ancestors were of German origin and his parents moved from Pennsylvania Dutch settlements to Western Maryland in 1811, founding a small community at the base of South Mountain that became known as Zittlestown.  Michael Zittle Jr. became widely recognized as a folk healer, referring to his "conjuring book" titled A Friend in Need; Or, Secret Science.  He came to be known as the "Wizard of Zittlestown" offering services to alleviate a wide array of difficulties, such as compelling a thief to return stolen property, providing a "sure cure for fever", closing a wound from firearms, curing the bite of a mad dog and "dispelling the fear of the darkness of night."
Madeleine Dahlgren became curious about Michael Jr. and after a brief examination of his book, opined in her South Mountain Magic that the Wizard experimented in the occult and made "impious use of holy names."  But Michael Zittle Jr. did not generally charge for his services, thinking that so doing would bring bad luck.   And his book opened with the passage from Psalms: "Call upon Me in the day of trouble; I will deliver you, and you shall glorify Me."  The Wizard was probably not much different from many settlers of his day, doing their best to understand and cope with the hazards, illnesses and uncertainty confronting them.  The Wizard's "black book" is preserved and can be seen at the Boonsborough Museum of History.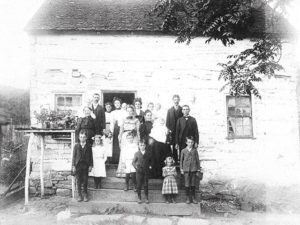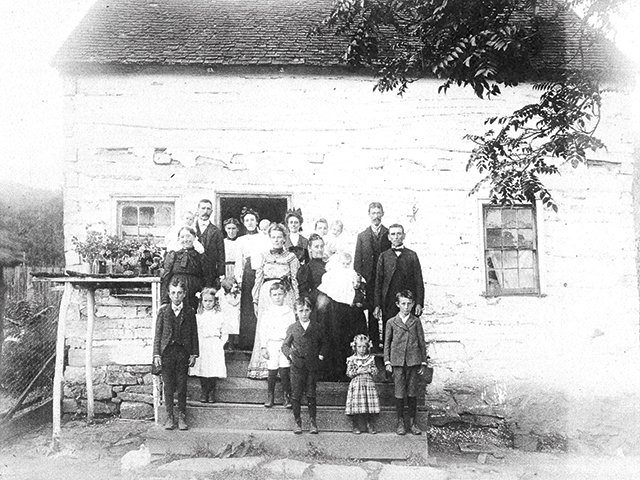 Photo shows members of the Zittle family in front of the family home. Photo courtesy Boonsborough Museum of History.