Dahlgren Chapel sits atop South Mountain, directly across from Old South Mountain Inn.  In 1876 the inn was the private residence of  Madeline Vinton Dahlgren, the wealthy widow of Admiral John A. Dahlgren, the inventor of the Dahlgren Gun.  Mrs. Dahlgren also built the stone Dahlgren Chapel.
From the onset of construction, Madeleine Dahlgren's private family chapel atop South Mountain would take nearly three years to complete. The stone would be quarried behind South Mountain House, and the walnut timber cut from stands on the estate. Records show that work progressed over the next year with the bell being ordered from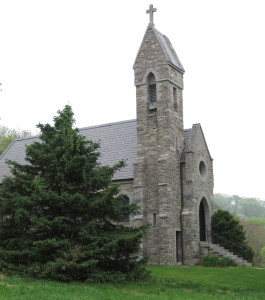 McShane Bell Foundry, Baltimore, MD on January 17th and delivered at a cost of $28.25 on June 23, 1882. The bell, cast in manure and mud, reputedly weighed 400 lbs.
In a subsequent letter to Archbishop Gibbons dated May 3rd, 1884, Mrs. Dahlgren wrote that –
"St. Joseph's Chapel, will soon be quite ready to be consecrated as a Temple of God."  Additionally she relates that "Wallace of Baltimore is now making the marble altar – which will be in its place next month."
All extant accounts concerning the altar refer to the marble as being imported from Italy.
Upon its completion, the English Gothic Revival style St. Joseph's Chapel of the Sacred Heart of Jesus would boast 18" thick stone walls and buttresses, slate roof, hand-painted and stained glass windows in the Nave, as well as a large rose window in the gallery accessed through the bell tower. It would measure approximately 68' x 24' with the attached bell tower approximately 40' high. Above the marble floors and wainscoting, the interior walls and ceiling were sheathed in native walnut paneling culminating in bracketed and trussed walnut arches supporting the roof.
The chapel was consecrated by Archbishop Gibbons on July 29, 1884 with six additional priests assisting. The chapel, referred to by Mrs. Dahlgren as "the South Mountain Mission", was presided over by clergy from St. Augustine Church, Williamsport and St. Mary Church, Hagerstown, MD with regular services being held from May to October. Her reference to the private chapel as a mission is interesting as local remembrance holds that Mrs. Dahlgren actively invited and encouraged local citizens to attend mass at the chapel.
After Mrs. Dahlgren's death in 1898 her real estate was passed to her daughter Ulrica Mary Dahlgren (Pierce).