Below are some of the memories of personal history in Boonsboro.  They are from residents and former residents who recollect what they remember about living in our town – the people, places and experiences that make our town what is is today.
To search by keyword, please use the search bar on the right side of the page. Or, browse by categories listed to the right.
To find out more about Pass It on, click here.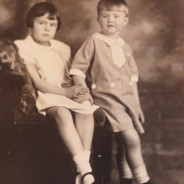 Search those attics, basements and old photo albums!
On October 15th from 1 to 5pm, the Boonsboro Historical Society will host a Pass It On event to scan in old photos or documents from Boonsboro residents.   We want to preserve them before they are lost or damaged and make them available on the Historical Society's website for all to enjoy and learn from.
Location: Boonsboro Community Life Center, 28 N Main Street, Boonsboro, MD
Have a lot of photos?  Reserve a scheduled time by contacting Kristin Bowl at kristin@skipjackweb.com.
The Historical Society is working with Skipjack Web Services to conduct oral interviews with our longest residents about their memories of Boonsboro.  These will be edited and also made available on the Society's website for educational purposes, thanks to a grant from the Mary K. Bowman Historical & Fine Arts Fund.
Questions about PASS IT ON? Want to schedule a recording appointment? Please contact Kristin Bowl  at kristin@skipjackweb.com.
Edgar Green, born in 1912, grew up on a farm just outside of Boonsboro.
His daughter, Luana, reads an account of his memories of farm life in the early -1900s.   Hog butchering, neighbors helping neighbors, and more.
Listen by clicking the track below.
On an iPad? If the track above doesn't work, click here instead.
Ruann Newcomer George, born 1945, talks about growing up in Boonsboro, places to shop and eat such as Warrenfeltz.
Other things mentioned:
Piano teachers Gladys Thomas and Hilda Clopper. Dr. Wade and Dr. Secondary. The Baby Contest held at the park in August of 1946 in which 25 local babies were entered.
Her maternal grandfather Harry Smith, who built the house at 326 N. Main Street between 1917 and 1918 and then died soon afterward, forcing the family to sell it.
Also what her great, great, great, great grandfather, Wendall Schecter, had inscribed on his gravestone in the Boonsboro Cemetery behind Trinity Reformed church.
Listen by clicking the track below.
On an iPad? The track above may not work for you. Try clicking here.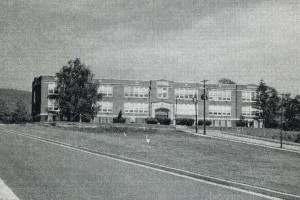 A reading by Barbara Crampton of her mother's memories growing up in Boonsboro.
Mary Coffman Crampton attended Boonsboro High School in 1928 and recalls school life, as well as the Civilian Conservation Corp (CCC) and it's work in Boonsboro. The Cramptons lived off Young Ave from 1951 until 2004 when they moved.
Listen by clicking the track below.
On an iPad? If you can't play the track above, click here instead.
Recollections from Edgar Green, born in 1912, about the hotel in Boonsboro during the Depression.
The hotel was also known as the Eagle Hotel (1877), Commercial Hotel (1897), and Mountain Glen Hotel (1922). Today, it is known as Inn BoonsBoro and is owned by author Nora Roberts.
Reflections from Edgar Green (born in 1912, recollections gathered in 1992)
Early Days of Edgar Green, born 1912
Well, it all started some years ago, August, 1912. I don't remember much of that day, unlike my cousin (Mary Stone) who remembers it very well. She says she laid in the doctor's black bag and ate pills.
From 1912 to 1918, things are a bit hazy except going to Mt. Carmel Church every Sunday. How I hated afternoon service and saying your "piece" on Children's Days and Christmas.
Things were a bit rough around First World War time. Nobody had money and, in 1918, half the people had the Flu. The only one in our family that had it was my mother.
This was the time when you put your heavy underwear on in October and it stayed 'til April or else "you would catch your death of cold" or worse. This is how I learned to read a lot on my own, when I caught cold and had to stay in the house at least a week—no radio, no TV….only books. Still have books.
Come 1920, off to Mt. Carmel School, Teacher Agnes Murphy. She lived in Boonsboro and Hezzie Snavely hauled her night and morning to Mt. Carmel and back. She would close school sometimes at noon and we would walk in the woods in search of the Trailing Arbutus.
Next teacher, would close school at noon to entertain boyfriends. She flunked me in the 3rd grade because I had measles in Lilac time. Next teacher, Aaron "Monk" Snyder—we got along fine—had me skip the third grade.
We got up to Hagerstown on an average of about twice a year. We would heat bricks to keep our feet warm on the way up. Coming home, I don't know what we did to keep warm.
(Edgar Green, recollections 1992)
Reflections from Edgar Green (born in 1912, recollections gathered in 1992)
Shooting
1918, age 6. Pop would buy me toy guns that shot corks. The only trouble was the chicken would grab the cork and run, if I didn't get there first.
1920, age 8. Dad taught me to shoot a rifle about this time and came the no rabbit in a fence corner was safe. When we got to Hagerstown, I would usually buy a Hunting and Fishing Magazine for 5 cents and the National Sportsman for 10 cents. I learned a lot.
Dad enjoyed shooting his 22, which he toted from age 8. He was a crack shot and often baited the sparrows with grain in order to set them up as targets. When it came to butchering time, he was called upon to shoot the hogs before Herbert Hutzell stuck them.
Elias Hutzell, who lived at the lower end of Appletown, peddled produce, had a Ford truck with a canvas top which he would kick out of gear at the top of Appletown hill and coast thru town too fast. One time, he ran over Carmie Netz rabbit dog; broke his back (the dog) and I had to shoot him.
Dad always looked forward to the fall because it brought hunting season. He remembered paying $1.50 for 500 shells, which he might use up in one-half day of hunting for rabbits. Armistice Day, November 11, was the first day of hunting season.
(Edgar Green, recollections 1992)
When I was a young child (1940's), Dad and a buddy or two would go out early every Thanksgiving Day and bring back quail, maybe pheasant, and rabbits to be part of our dinner.
(Luana Green Goodwin, postscript 2015)
Edgar Green (born 1912, recollections from 1992)
Farm Life
The Appletown house Ed grew up was said to be the oldest in the area, beginning as a log cabin. The stream on the farm was sizable and had fish.
Ed's granddad Green was temperate in all things. When Ed visited his house, he was made uncomfortable by the fact that his Granddad ate sparsely, then regarded everyone else at the table while they ate. This abstemious grandfather "ate little—-drank little—-chewed little—-smoked little and lived to be 93. Grandad Stone, on the other hand, headed a hearty table and ate generous portions. He was partial to oyster stew at Christmas, ate cherries seed and all and used sausage grease for gravy. He lived to be 85. Ed said he "never saw either one of their faces, both wore beards."
Grandad Green had a small country store in Appletown for a time. Aunt Bertha Green told the story that, one time, he had set a molasses barrel upside down to drain then started off across the mountain in a buggy. When he remembers that the barrel was draining, he had to turn around a go home to save the molasses. She also remembered that crackers in that day were quite different from now, muck thicker and flakier. Nothing tasted so good as molasses on a cracker.
Granddad Stone sold and repaired organs though he had no formal training for it. The organs he sold were shipped from Chicago by B&O.
Butchering was the most exciting time of the year. My grandfather (E.A. Stone) usually butchered 6 hogs weighing 550 lbs. They had been purchased weighing 10 lbs. Butchering occupied two full days. The first day, the men did the killing and cutting. The second day, the women got busy with preserving. They fried the tenderloin and put it in gallon jars, then poured lard over it to keep it. "Talk about grease —we were swimming in it!" They cleaned the casings. Everybody took fresh sausage home. The men took the hams and shoulders to a cave they had dug a few days earlier. Granddad Green prepared the curing mix of salt, pepper, red pepper and saltpeter. Then, they brought the hams to the smoke house to cure for a few days.
Indoor plumbing was new to a lot of folks in 1926. We never got electric power to the farm until 1929. I can still remember how nice the stable looked and smelled with the old coal oil lantern. In the winter, grandmother said," Let's get the work done, when it's 4:00, it's night."
After high school, Ed spent 1930-32 working on the farm. He remembered that the tractors were very loud, with no mufflers. They had no fenders so mud "hit you constantly". You had nothing but "brute strength and hydraulics". You had to pull a lever to get the plow up.
Reflections from Edgar Green (born in 1912, recollections gathered in 1992)
Stories from School
About this time, (1924) it was off to Boonsboro to school—quite a change for a country boy. Started in Miss Cressman's room in the 5th grade. After about 3 weeks, she put me in the 6th. Walked from Appletown to the Old School on Potomac St. for 3 years. Wasn't bad except when it was raining or snowing. Missed very little school. One thing I liked—if you made "A" in a subject, you did not have to take mid-year exams. I was lucky—English was about the only exam I had to take in the 6th, 7th and 8th grades.
We had a Janitor at the building, Buck Cleland. To him, everything was "her". Sometimes the valve on the old boiler would let go. There was Buck saying "hers popping off her is!"
In winter we would pour water on the front walk and skate down toward the road. The first year I was there, electric lights were installed—four bulbs in each room. This was the last word—now we had everything!
The 6th, 7th and 8th grades passed with little changes. Dr. Wheeler and Elizabeth were sitting on the porch when we went to school and still there when we left—always reading the paper. They got a lot of papers or were slow readers.
So now, I guess it is on to High School; but, instead of walking, John Cline was now running a bus, Selden Pacemaker, from Brownsville to Boonsboro on his own, freeform. Appletown to Boonsboro was 20 cents per day. No one heard of "snow days". We started the first Freshman class in the new building in 1926, 45 strong. Of the 45, 17 finished in 1930.
At one time, they put a fence up the road to the school with gates at McCoy's store. One night, the gates walked over to the bridge at the Devil's Backbone and threw themselves in the creek.
We had a great bunch of teachers in high school: Gardner, Bast, Castle. Specscow was the Principal. He was tough—had the bluest eyes I ever saw—should have been a gun fighter in the Old West—all novels say they had cold blue eyes.
Of course, all this time there was no legal whiskey, wine or beer, but anyone with a dollar, no matter what age, could go out to "Butches" and get a pint of shine or home brew for 15 cents a bottle. Lucky, Camels and Chesterfields were 2 packs for 25 cents or $2.00 a carton.
That great day at last— Graduation—and I had the mumps and did not get to walk across the stage to get a diploma from the Superintendent.
Stories from Edgar Green (born in 1912) related to the Civil War, as recorded by his daughter Luana Green Goodwin.
Civil War
Ed reflected: "I'm sorry I didn't ask my grandfathers more about the Civil War because both remembered it well. They told me how farmers would hide their horses by stacking straw around them.
The soldiers would shoot the farmers' hogs and only take the hams. Also, along Rt. 67, a soldier explained how a 7 shot Spencer carbine worked by shooting birds off fence posts.
Locals were able to watch troop movements from the steeple of Mt. Carmel Church.
(Edgar Green, recollections 1992)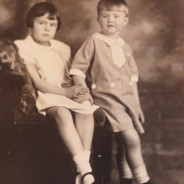 The Boonsboro Historical Society is inviting long-time residents to pass it on…. their memories that is!    The Society and and former Boonsboro resident Luana Goodwin have begun an effort to gather stories from long-time residents. We are interested in preserving the history that lives on in the minds and experiences of some of our oldest residents.
Have an aunt/uncle/grandparent/parent/neighbor who has lived in Boonsboro a very long time? We'd like to hear what they remember about our town – it's people, places and events. The PASS IT ON effort started at Boonesborough Days this past September and will be an ongoing effort with periodic opportunities to come and sit for an audio recording.
We are also glad to receive memories written down, as well as old photos!
Questions about PASS IT ON? Want to schedule a recording appointment? Please contact Luana Goodwin at lugoodwin@icloud.com.
If you have old photos already scanned in, feel free to send to Kristin at kristin@skipjackweb.com.