Lord Baltimore envisioned an agricultural economy in western Maryland and in 1732 he offered land, free of charge, to settlers provided they establish a farm with an orchard of 100 trees.  Fruit trees flourished in the region and apple orchards became a common feature on farmsteads. Apples were grown primarily for their juice and hard cider was a common colonial beverage since well-water generally was regarded as unsafe.  Everyone in the family drank the hard cider year-round, and most families produced 20 to 50 barrels of cider each autumn for their own consumption and to use as barter for other goods and services.
The soil and climate around Boonsboro was well-suited for farming. In the early 20th century raspberry, strawberry and fruit tree operations became common, supplying the metropolitan areas as far away as Pittsburgh.   In the mid-20th century Boonsboro became well known for its softball-sized Heart of Gold cantaloupes and was considered the hub of Washington County's "berry belt" – which extended from Mapleville to Rohersville.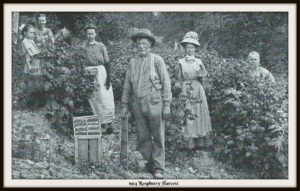 Photo by C.D. Young, courtesy of Boonsborough Museum of History.