For 190 years, our Monument has endured the relentless pull of gravity, weather extremes, lightening strikes, souvenir collectors and vandalism.  A curious rumor circulates that an indignant father suspected his daughters of meeting their suitors at the Monument and, in an attempt to discourage the amorous couples, detonated a charge of dynamite causing further damage to the deteriorating structure.   At any rate, by the time the Civil War swept into the North in 1862, the Washington Monument was in ruins.  It was used as a Union observation post and signal station because of the panoramic view of the surrounding terrain.
Fortunately, memories of the Monument's former dignity prevailed and in 1882 the La Grange Lodge of the Independent Order of Odd Fellows of Boonsboro advocated for its preservation.  Workers removed the rubble and completely rebuilt the structure according to the original design, again, dry-stacking the stone.  This time, the exterior was stuccoed for reinforcement and a 15 foot steel observation platform was added.  The reborn Monument was re-dedicated on August 18, 1882 before a crowd of 3,000 people, in a ceremony that attracted the Governor William T. Hamilton, an early Boonsboro resident.
But success was short-lived and neglect, weather and vandalism again saw the tower fall to pieces.  In 1916 Harvey S. Bomberger, first President of the Washington County Historical Society, launched a campaign to acquire the Monument and land surrounding it and see to its definitive restoration.  He advocated for the Monument through published articles and enlisted the able support of the Daughters of the American Revolution.  One of the DAR, Isabel S. Mason wrote a moving and influential poem dedicated to the Monument entitled, "The First Washington Monument."  Finally, in 1935, the Maryland Department of Forestry, the National Park Service and the Civilian Conservation Corps collaborated in the Monument's restoration and its dedication ceremony was held July 4, 1936 with Harvey S. Bomberger delivering a historical account of the structure.  Thanks to solid construction in 1935 and excellent maintenance by the Maryland Park Service, the Washington Monument today stands sentinel over a wide expanse of the Potomac River, including lands that a young George Washington surveyed for Lord Fairfax.
On July 1, 2017 citizens of Boonsboro and surrounding communities will commemorate the 1827 dedication.  May that ceremony remind us of the patriotism and sacrifices of our forebearers and arouse civic pride in our unique, historic community.
Next week:  Isabel S. Mason's poem, "The First Washington Monument"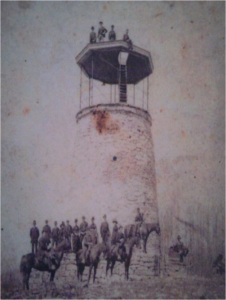 Photo shows the monument after the reconstruction in 1882 which added a steel observation tower. Photo taken from Tim Ware's Mountainaflame blog.