Imagine the dramas that must have unfolded in buildings that have stood at 2 South Main Street since Boonsboro's earliest days!!!  The southwest corner of the town square was first occupied by Mrs. Short's log store and was one of only 5 structures in Boonsboro in 1796.  Dr. Ezra Slifer purchased the property in 1811 and replaced the log building with his 2-story brick residence (this structure is the front part of today's Vesta Pizzeria). By 1813 John Adams (a contractor on the Boonsboro-Sharpsburg Pike then under construction) was operating a tavern there. He soon sold the property to George and M. Stonebraker who constructed the rear wing in 1821.  Thereafter the property passed through several owners and eventually was converted to a female seminary by William Bear and his daughter. But, unfortunately, this enterprise foundered, perhaps for being attempted too early in this Country's movement toward women's equality. During the Civil War the U.S. Hotel was operating at this location and was frequented by troops of both sides maneuvering in the area. Col. Bassett French, a Confederate officer, was patronizing the establishment in 1862 in the company of a young officer from Louisiana enjoying an excellent meal —"like an old-time Virginia country tavern dinner" and he recounted a fascinating incident in his memoirs.
"I had finished the substantials and with an air of unmistakable satisfaction only to be appreciated by one with a stomach 'with fat capon lined,' had stretched out my hand for an apple pie when I heard the clatter of cavalry passing the tavern into the National Pike from the Sharpsburg Road.  Dropping the pie, I rushed to the window overlooking the Sharpsburg Road, and–horrible vision-I saw a troop of Yankee cavalry dashing into the National Road, yelling like very devils."
At this point the landlady (who must have had southern sympathies) offered to conceal him in her chamber, but considering possible escape routes, he chose to hide in the cellar.  There he listened to the sounds of a skirmish between cavalry units followed by an infantry volley and, deciding it was safe to emerge, he hurried through the dining room to discover that both "his pie and the young Louisianan had vanished."  He added "In the center of the plaza was a crowd of officers, soldiers and villagers around a mounted officer, whom I immediately recognized as "Stonewall," who himself…had narrowly escaped capture."  The General told Col. French "Your love of good feeding will bring you into great trouble yet."  Considering this rebuke from General Jackson, perhaps it is not surprising that after his narrow escape, Col. French would take notice that his uneaten apple pie had vanished.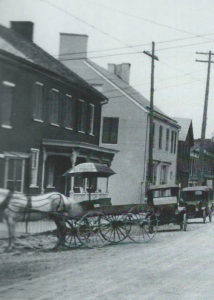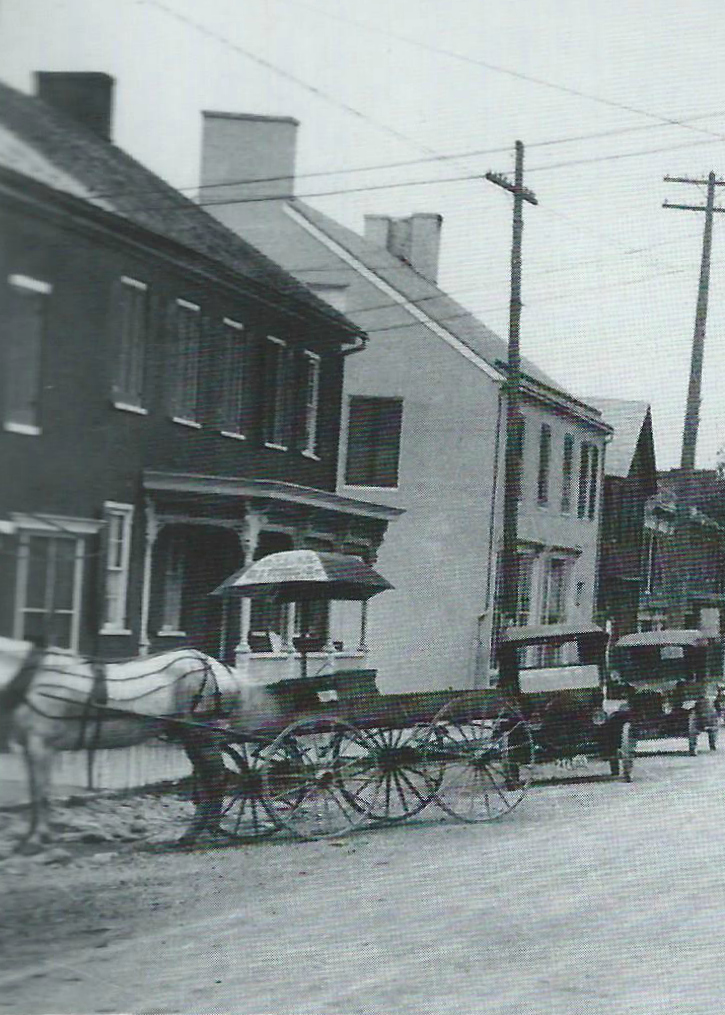 2 South Main Street is the dark building in this early 20th-century photo made by George D. Wetherhill & Co of Philadelphia (courtesy of the Boonsborough Museum of History).