The Daughters of the American Revolution collaborated with Harvey Bomberger in his efforts to restore the collapsing Washington Monument during the 1920's and '30's, difficult years of stock market collapse and the Great Depression.  Isabel S. Mason wrote an influential poem dedicated to the Monument entitled, "The First Washington Monument" which was published in The Patriotic Marylander and local newspapers.   It is fitting to absorb these powerful words as we celebrate Independence Day and reflect on the sense of patriotism and duty that spurred those Boonsboro residents to erect the Washington Monument 190 years ago on July 4, 1827!
The First Washington Monument
Of old thou stood, a watcher lone,

Upon the silent height;

Strong as the Heart of Valley Forge,

That watched in frozen night.

For in thee glowed the pulse that timed,

The march of Freedom's feet;

Fed by the flood of hero blood,

It ne'er shall cease to beat.

The hands, within whose sturdy veins

The patriot thrill coursed free;

Raised up thy sentinel form to him

Who wrought for liberty.

Those hands are stilled, but, oh, the throb

Hath never ceased to rest;

It vibrates down the path of Time,

And echoes in each breast.

Though shattered once by storm and age,

Yet nature wove thee round,

A flowery, fragrant memory,

Embraced thee from the ground.

The fair, wild blossoms kissed thy form,

The birds sang o'er thy stone;

The star's in nights emblazoned flag

Kept watch with thee alone.

And now, once more thy form shall stand,

Grim Veteran of the past;

Like Liberty, though crushed to earth,

It must arise at last.

From when the thrill of grateful love,

Shall o'er us cease to steal;

'Twill be because our Soul is dead,

And hearts have ceased to fell.

by Isabel S. Mason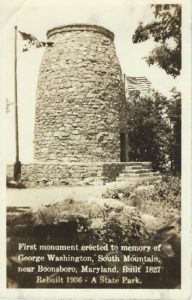 Photo is an original postcard from Darce Easton, daughter of the first Park Superintendent Robert I. Palmer.