Elected sheriffs have been enforcing the law in Washington County since 1777, fifteen years before Boonsboro was founded.  Since then, 79 individuals have been elected Washington County Sheriff, confronting all manner of criminal disturbances and, until 1835, serving as the County Tax Collector.   Constables were employed by sheriffs to handle court-related paperwork connected with criminal and civil matters.
Boonsboro recognized the need for detention of lawbreakers in 1835 and engaged John Fague to construct a stone jail just west of Trinity Reformed Church on Potomac Street for a reported cost of $45.  It came to be known as the "Old Jug" and served its purpose for 80 years until its demolition about 1915 (shown in photo).  Boonsboro operated a town police department in the 1970's and from 1980 to 2005 the town looked to the Maryland State Police and Washington County Sheriff for protection.   Boonsboro has had its own police force since 2005.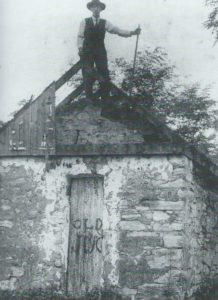 The demolition of the 'Old Jug' in 1915. Photo by C. D. Young and courtesy of the Boonsborough Museum of History.