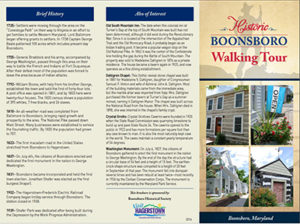 Whether you're visiting Boonsboro for the first time or a lifelong resident, you are sure to learn something new from our Walking Tour of Boonsboro.
Brought to you by the Boonsboro Historical Society, the tour is available in both print and mobile versions, and offers insight on 38 locations of historical interest in town.
For example, did you know that the building which houses Dan's Restaurant & Tap House today has also been an emporium, a tailor shop, a post office and a meat market?
The print brochure is available at Town Hall and several businesses downtown.  Or, you may print it at home by clicking HERE.   Grab one and get started walking! The first stop is the Inn Boonsboro.
The mobile app is available by downloading the PocketSights Tour Guide app. Go to Apple App Store (iPad, iPhones) or Google Play Store (Android devices) to download

the app in a few seconds. Once downloaded, make sure your location is enabled. The app will bring up any tours available in the area, including our Walking Tour. If it doesn't pop up automatically, use the search feature to search for Boonsboro. Touch the screen to get started and the app will show you all the stops and follow you as you walk. Touch each stop to see photos and information.
It's another great way to celebrate the 225th Anniversary of Boonsboro in 2017!   
Note that 34 of the 38 sites are accessible by walking within town.  Driving is suggested for the last four stops  (Washington Monument, Crystal Grottoes, Dahlgren Chapel and Old South Mountain Inn).