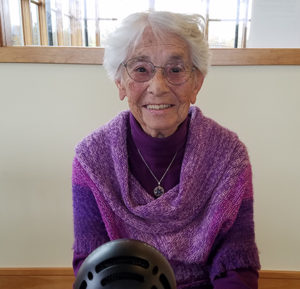 Darce Easton, born April 30, 1930, moved with her family at the age of 6 to live at the Washington Monument State Park in Boonsboro.  Her father, Robert Palmer, had been named the first superintendent of the park and job meant moving to live in the ranger's house on park property.
There she lived with her parents and brother until she married and moved to Rohrersville.  She has some wonderful stories of her time there, helping her dad, being in a presidential motorcade and general antics as she grew up in the shadow of the country's first monument in honor of President George Washington.
---
Below is a list of clip topics.  Scroll down to listen to the actual audio clips.
Clip 1 – Darce's father had been an insurance salesman. When asked how he came to get the new job, she replied….
Clip 2 – The role of the Civilian Conservation Corps "boys".
Clip 3 – She and her brother inside and out (clip)
Clip 4 – Trouble she got into and put on the garage roof
Clip 5 – The Zittlestown School and the food kids from Zittlestown ate.
Clip 6 – How the kids at the Zittlestown School got candy rewards
Clip 7 – Walking to Boonsboro school
Clip 8 – Zittlestown families taking what they raised to market and feed bag dresses.
Clip 9 – About her dad Robert Palmer
Clip 10 – Boonsboro's black family, Hayes Toyer
Clip 11 – Going to town for various things
Clip 12 – Did you have many friends? Well, associates
Clip 13 – What did your family do on the weekends?
Clip 14 – The house they lived in and museum inside the house
Clip 15 – This was Daddy's park
Clip 16 – Black powder shenanigans
Clip 17- Making bullets and shooting squirrels
Clip 18 – FDR visits Antietam and Darce is there
Clip 19 – World War II Air Raids
Clip 20 – World War II – Convoys and lunches for soldiers
Clip 21 – Beginning of the Monument
Clip 22 – Work of the CCC to restore the monument
Clip 23_chores and work by Dad
Clip 24 – her mother and the Red Cross
Clip 25 – Trinity Reformed and wedding
Clip 26 – Meeting her husband, American Legion, age 19
Clip 27 – Dating
Clip 28 – It was a magical time…What she did for fun…Tour guide, white frog farm
Clip 29 – Husband's service in the medical corps, concentration Camps and Japan, WWII
Clip 30 – She was her dad's right hand man and helped build the museum and signs
Clip 31 – Daddy was happy in his job, Mr. Buckingham who hit a tree
Clip 32 – Mr. Beasely and her horse